From 18 to 22 November 2021 we spent the weekend on an Outreach to Baltimore and surrounding areas, joined by Kobie & Regina Klerck. On 19 November we started the day by visiting the beautiful Sterlig Nursery where Charles had the opportunity to share the Good News and what the Bible means to us with the 15 workers of the Nursery. Kobie & Regina could hand a Bible to each of the workers, mostly in their own native languages.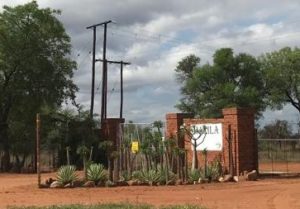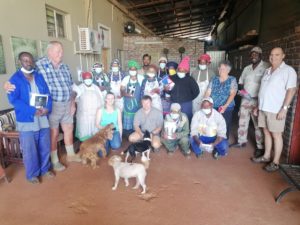 The next stop was at Baltimore Primary School where we spent some time with all the children, sharing testimonies and Biblical truths. Due to fundraising efforts by the Young adults from the Baltimore AFM Congregation as well as generous donations by the Rustenburg Community, the children were spoilt with arms full of gifts of stationary, sweets and Coldrinks.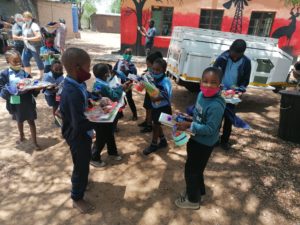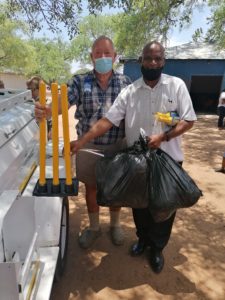 The final stop for the day was at the Bob Mmola Drop-in-Centre in Rebone, Steilloop. Here a few dedicated workers take care of children who need after school care.  Once again the Good News could be shared and the children were spoilt with many gifts, most importantly Bibles.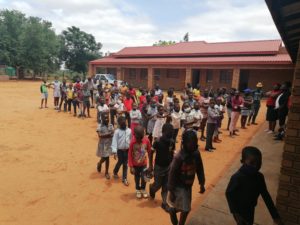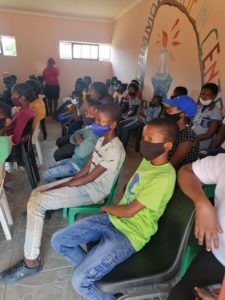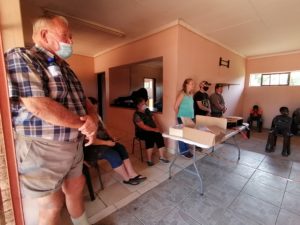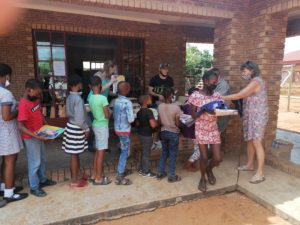 On Saturday we spent some valuable time with the Young Adults group of Baltimore AFM, encouraging them to keep the faith and to keep up the good work that they do in their local communities. On Sunday we shared with the AFM congregation and on Monday we returned home, tired but satisfied that the Word was shared in these far northern parts of South Africa.
The weekend of 3 to 5 September 2021 was spent at Amadwala Lodge, a place dedicated by the owner, Gawie, to ministry, especially focusing on the spiritual needs of men. This was the first of what he believes will be many men's weekends still to follow. After 16 years of dreaming, 16 people arrived on Friday night to be treated to Praise & Worship, spiritual discussions and good food. During the weekend the numbers grew and on Saturday evening more than 20 lives were dedicated / rededicated to God. On Sunday morning pastor Johan shared a powerful message – "Herstel jou altaar voor God", quality time was spent in prayer for healing and many a life was touched and changed by God. All glory to God!
Before the weekend a massive cross was erected on top of the mountain as a symbol of dedication to furthering the Kingdom of God.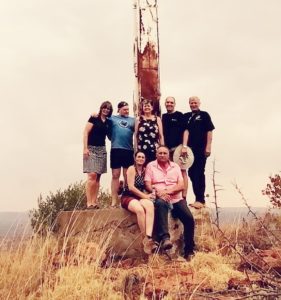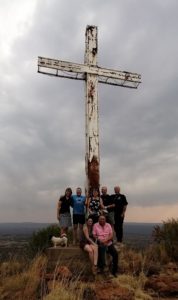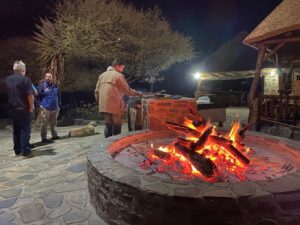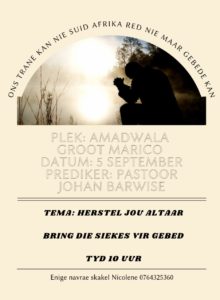 "Onder Die Boom", the inter-denominational Sunday Church Service that started in September 2018, is still happening once a month under a tree at Bosveld Oord, usually in the middle of the month. This resort is situated on the N4 Highway, west of Rustenburg on the way to Swartruggens, about 35km outside of Rustenburg. More information is available on the Facebook pages of Bosveld Oord and Testimony Treasures. Some Live Streaming of services are available on the Facebook Page of Testimony Treasures.
Pilgrimage of Hope, Western Cape: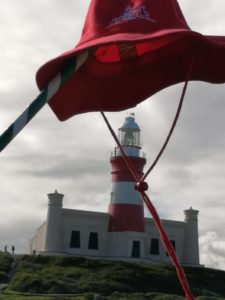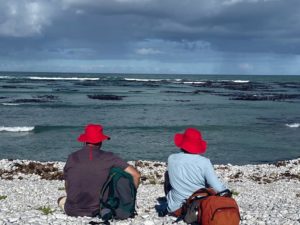 From Sunday, 1 May 2021, until Sunday, 16 May 2021 we completed the Camino of Hope, starting in Stellenbosch and hiking all the way to Cape Agulhas. It was an amazing experience, tough but rewarding in so many ways – physically, emotionally and spiritually. Daily Facebook Posts kept everyone following our journey up to date and can still be read on the Testimony Treasures Facebook Page.
Outreach to Baltimore & Alldays, Limpopo:
On Friday, 11 December 2020, we joined Kobie and Regina Klerck and left Rustenburg for an exiting weekend in the Northern parts of South Africa. Upon our arrival we stopped at the entrance of Baltimore to spend some time in prayer for a blessing for the area and the people.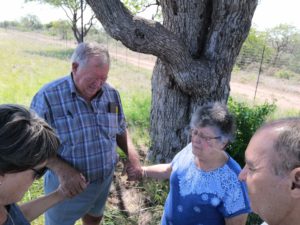 The Saturday was spent ministering to and handing out Bibles to more than 130 farm workers in the Baltimore area.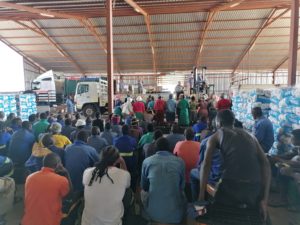 On Sunday we had the opportunity to share our testimonies with the AFM congregation of Baltimore, to hand out more Bibles as gift to workers in the area, as well as to spoil the children with gifts and sweets. In return we were treated to a scrumptious meal, including a lamb on the spit.

Later that afternoon we drove to Alldays and met with a small gathering of believers who included us in their time of worship and praise. We gave everyone their own Bible and a wooden cross, again spoiling the children with gifts and sweets. After having tea/coffee and eats with the leaders, a happy but tired group returned to Baltimore.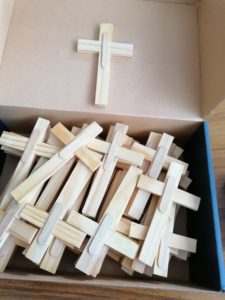 On Monday morning we greeted Pastor Evan Corbett, our generous hosts, and returned to Rustenburg.
(The complete testimony of this outreached will be shared on the Testimonies Page soon)    
During the lockdown time and the rest of 2020:
These past few months were used to edit and post all the testimonies gathered during the recently cut short Road Trip through parts of South Africa.
Charles also used the time spent at home to finalise the 9 episodes for the Testimony Treasures / TBN Africa TV show, which were  aired on DSTV Channel 343, from Sunday, 2 August until Sunday, 27 September 2020.
Road Trip to gather Testimonies:
Charles and Stephne went on a road trip planned for March & April 2020, travelling through parts of the Northwest, Free state, Eastern and Western Cape Provinces of South Africa. The purpose of this trip was to find ministry opportunities, especially in smaller towns and communities, as well as to record testimonies of fellow believers. We trusted God for engagements and appointments.
This trip was however cut short when the nationwide lockdown was announced from 26 March 2020.
The part of the program of places we managed to visit for gathering of testimonies, opportunities to minister or engage with fellow believers, that we completed before turning back home, included:
TESTIMONY TREASURES "KLEIN DORPIE TOER / SMALL TOWN TOUR 2020"
1. Left from Rustenburg 4 March 2020
2. Bultfontein 4 – 5 March
3. Bloemfontein 6 – 8 March
4. Gariep 9 March
5. Graaff Reinet (Camdeboo National Park) 10 – 12 March
6. Kirkwood (Addo Olifant Park) 13 – 15 March
7. Misgund 16 – 17 March
8. Oudtshoorn 18 – 19 March
9. Struisbaai  20 – 24 March
10. Return to Rustenburg 24 – 25 March 2020
We had wonderful "Devine appointments", met new and old friends and recorded numerous testimonies of God's hand in the lives of believers, which we are currently sharing with you all, both on the TESTIMONIES PAGE  as well as THE FACEBOOK PAGE.
"Onder Die Boom" is an inter-denominational Sunday Church Service that started in September 2018 and takes place once a month under a tree at Bosveld Oord. This resort is situated on the N4 Highway, west of Rustenburg on the way to Swartruggens, about 35km outside of Rustenburg. More information is available on the Facebook pages of Bosveld Oord.
On Sunday Morning, 7 April 2019, the "Onder die Boom" Services continued at Bosveld Oord, The theme on that day was"A New Beginning" and we are glad to say that a number of attendees responded to the altar call and committed / re-committed their lives to Jesus. We pray God's blessing on their walk in faith.
On Sunday morning,  10 February 2019 as well as on 17 March 2019, the Onder die Boom, (as it is now called) continued with two sermons lead by Charles. Attendance increased every time as more families joined in. The old Fig Tree at Bosveld Oord (Resort) will now be the monthly gathering place for the local farming community to enable everyone to Praise & Worship together. The next Service will be on Sunday, 7 April 2019 @ 8:00, everyone is welcome.
Early on Sunday morning, 2 September 2018, Charles, joined by a group of men from the Rustenburg Methodist Church Men's Fellowship, as well as some local farmers, gathered in the shade of an old Fig Tree at Bosveld Oord (Resort) to praise God.
The theme was "The Role of the Christian Man in 2018″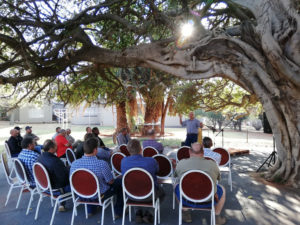 On Sunday, 29 July 2018, at both services of the Rustenburg Methodist Church (8:00 & 9:30) the team members gave testimonies and feedback on the work God did in Khekhenye this year. Testimonies of some of the team are being placed on the website as well as the Facebook Page as it is received.
Botswana Outreach 2018!
From 9 – 15 July 2018 a team spent time in Botswana, visiting Khekhenye for the fourth year. A team of 19 members, with the wonderful support of the Rustenburg Methodist Church members and Word to Africa in Lobatse, Botswana, worked towards starting a Bible Club / Pre-school in Khekhenye. A Bible placement was done at the Primary School, training was provided to a steering Committee for the Bible Club and the children were spoilt with games, fruit and biscuits. Once again both eam members and the community were blessed with the amazing hand of God during this special time together.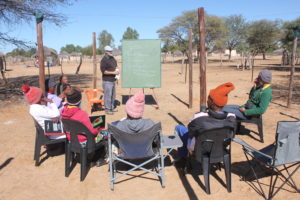 Lay Witness Weekend, 8 – 10 June 2018, Brits Methodist Church
Friday evening we were blessed, listening to four testimonies of various kinds.
On Saturday morning congregants attended a workshop discussion, equiping ordinary people to feel comfortable sharing work of God in their lives.
On Sunday the weekend was concluded with a Church Service and Holy Communion.
Charles and I finished publishing some of the testimonies from the recent Lay Witness Evening held in Rustenburg on 16 March 2018.
Lay Witness Weekend, 16 – 18 March 2018, Rustenburg Methodist Church
Friday, 16 March 2018(18:00) – Lay Witness Evening – Ordinary people shared their stories of God's work in their lives. These testimonies will be shared with you as it becomes available.
Saturday, 17 March 2018(08:00-11:00) – Botswana Oureach Intro / Training – Introduction and Information about the July Botswana Outreach provided to everyone interested in going with as part of the team.
2017 was enjoyed with lots of excitement on our side as it was the year when Testimony Treasures became our full time focus! We have been blessed with so many special times and happenings within our Ministry and will continue to share with you the wonderful works that God does in the lives of ordinary people.
19 September – 10 October 2017: WESTERN PROVINCE OF ZAMBIA
We spent a blessed time spent in the Western Province (Barotsiland) of Zambia during September & October 2017. Many testimonies were recorded, miracle healing felt and precious time spent ministering and being ministered to. All of these testimonies have been processed and placed on the website's 'Testimonies' page, as well as on the Facebook page and YouTube Channel.
In short:
We, Charles and Stephne, spent some time in the South of Zambia as well as in the Western Province of Zambia, also referred to as Barotsiland.
We spent a few days with missionaries friends, Dan & Adrie van Aswegen, at the Livingstone Mission Centre close to Kazangula. Although short, it included good fellowship with fellow believers. They took good care of us ad they felt encouraged by our visit.
On Wednesday, 27 September we moved on to Shikwaru on the Zambezi (Ubuntu, as it used to be known), close to the small town Sioma, in the Western Province of Zambia. Here we met Simba, Annie and their staff running the Lodge and Mission House. As we familiarised ourselves with the area, we spent the last day of a three day training workshop with Children's Church workers from the surrounding areas, lead by Rev. Isaac Mphande from AWANA Zambia. Thereafter we attended church with Ryan, a young man from California, USA who has a two year contract with Reaching a Generation. He also took us to some of the schools where he assisted in establishing veggie gardens and feeding schemes sponsored by Hand of Hope Ministry, in partnership with Reaching a Generation.
For the remainder of our time in Zambia Jarnix, a Zambian staff member of Reaching a Generation assited us in recording many amazing testimonies from Volunteers working with the children's churches planted in the area, drillers involved with the provision of boreholes to local communities, other long term missionaries from USA as well as numerous local people involved in a variety of ministries. These are being published on the Website as well as the Facebook Page and YouTube Channel of the ministry as it becomes available.
8 September 2017: Lay Witness Evening. THE GOD OF THE CITY IS THE GOD OF THE DESERT.
Team members of the recent Botswana Outreach gave feedback and testimonies of the wonders that God did in the lives of others. Some of these testimonies are already shared on the "Testimonies" page.
We are sad to share that the oldest member of our recent Botswana Outreach Team, Simon Mataboge, passed away on Monday, 10 September, shortly after sharing his testimony at the Lay Witness Evening. It was our priviledge to share in this moment with him, and it will be shared as a last testimony to him.
Dear Oupa Simon with Ontse from Lobatse.
 18-24 July 2017: Botswana Outreach. JOINING GOD IN RELATIONSHIP WITH THE NEXT GENERATION
For the third consecutive year a team of adventurous believers headed out to the small villages of Khekhenye, Puduhudu and Tswaane in the Kalahari area in the Southwest of Botswana.
This year the focus was on children's ministry as we wanted to reach the Village using the next generation. A group of between 50 and 110 children daily went on clean-up walkabouts through the village, singing as they went along. Coming back the team played games and shared some Bible teaching with the kids. They were also daily showered with fruit and biscuits donated by the members of the Rustenburg Methodist Community.
The team did some work at the churches of Khekhenye and Puduhudu, using the manpower of the men in the team and had a sewing project for the women of the village. We ended one day with a movie for all the local people.
Most importantly, valuable time was spent in sharing our faith with a group of young men being Discipled by Word to Africa's team from Lobatse, with the help of a local leader in the church in Khekhenye.
Visiting Tswaane for the first time, the team went out on walkabouts, sharing the Good News and returning with many Good News stries of their own. The Jesus Film was shown in Tswaane.

More details of these activities will be shared as the team provide their testimonies which will be posted on the TESTIMONIES Page soon.
30 May 2017: Visited Radio Pulpit. We spent some time in studio and on air with Jeanine and Wynand and had such a good time at Radio Pulpit. It was a great opportunity to share God's blessing of this Ministry with so many fellow believers, telling of our journey and the plans He is making clear to us as time goes by. They welcomed us and made us feel completely at home and relaxed and asked all the right questions. It was a priviledge to share with everyone who listened to the talk. We appreciated the immidiate respons and feedback from the listeners of Radio Pulpit. There were two comments to current testimonies, two new testimonies, many website visits and Facebook Page likes resulting from this discussion.
26 May 2017: We are excited about the 60+ believers who joined us for the Lay Witness Event on Friday, 26 May 2017. It took place in Rustenburg, South Africa, and we were amazed by the works and wonders of Abba Father in the lives of fellow believers. 6 Speakers shared their personal testimonies of God's hand in their lives with us and encouraged, inspired and uplifted us tremendously. These testimonies will be posted on the Testimonies page of the website soon as well as on the Facebook Page.
5-11 July 2016: We joined the Rustenburg Methodist Church team on an Outreach to Khekhenye, Botswana. Thank you for keeping the Outreach team & villages we were visiting, in your prayers.
We assisted Word to Africa in presenting Discipleship training to Church leaders, using the 17 Stories Ministry Tool. The ladies did a lot of sewing with women from the community, resulting in good fellowship and strong relationships. This year we could daily split up into teams for house-to-house ministry in the village, as we had 7 Setswana speaking people, a true blessing! The floor of the Church was fixed, a water tank on a stand erected and constant fixing of the toilet also needed to be done! Some team members went to Puduhudu to put up the fence around the Church property.
Everyone agreed that this was a blessing and enriching experience for all of us.
Upon our return from a very blessed time away in Khekhenye, with the Rustenburg Methodist mission team, we posted some of the testimonies of the wonderful work of God in the lives of the local people as well as the team members.
19-21 February 2016: Lay Witness Formation Weekend at the Rustenburg Methodist Church was a huge success.
On Friday night more than 100 people was privileged to listen to four invited witnesses who shared their testimonies. Anton Engelbrecht, Paballo Mokwena, Deon Farmer and Kevin Witt shared a bit of what has meant to each of them and it was an inspiring experience for all of us.
On Saturday morning about 25 of us workshopped the concept of witnessing for Christ and we all learnt a lot.
Sunday morning the weekend culminated in an exciting time of praise & worship and more testimonies during the Sunday service.
Thank you all for participating.
September 2015: Charles and I, Stephne, went to the Northern Cape and ended up in the little town Nababeeb, near Springbok, in the Namakwaland. Here we attended the church service of the Assembly of God church on a Sunday and spent some quality time with the local minister, Peter Diome, and his family and friends. On Wednesday the 23rd, Charles explained a bit about Testimony Treasures to the Bible study meeting and as a result we received the first three of many awesome testimonies of how God is active in the lives of the Nababeeb community members. Please read some of their testimonies as we place it on the Testimonies Page.
July 2015: The team came back from Kheheng and Puduhudu in Botswana, tired but satisfied. We spent the five days working hard at renovating the church building in Khekheng, reaching out to the people in the village and really having good fellowship. We used the Jesus film in the local language to minister to both villages and had as many as about 40 in Puduhudu and about 20 in Khekheng who committed their lives to God. Thank you for your prayer support. Se a few of the testimonies already placed about this outreach.
June 2015: We are on our way to Botswana as part of an outreach by the Rustenburg Methodist Church. A group of about 23 members joined by a few guys from Word to Africa based in Lobatse, will be visiting Khekheng and the Phuduhudu area, nearby Kang from 8th until 13th of July. We know that we will be coming back with amazing testimonies of how God both used us and blessed us with His touch of Grace. Please pray with us for this mission.
Dec 2014: As the word about the Testimony Treasures Ministry spreads, more and more people are either reading posted testimonies, or posting new testimonies and/or telling others to check out the website and Facebook page. Thank You Lord!
On 7 December 2014 God used us to deliver the same message (see above) to the congregation of Rustenburg Methodist Church. The Holy Spirit was at work during this service and many people were touched. The visits to TestimonyTreasures.co.za jumped to above 450. Numerous people indicated that they would be willing to submit testimonies and Stephne has been following up on them. We are looking forward to post their stories.
On Sunday 30 November 2014 we lead the service at the Mooinooi Methodist Church with the theme being "The world needs to hear your story". The Bible teaches that we are:
A. Messengers for Christ (2 Cor 2: 17)
B. Witnesses for Christ (Acts 1: 8)
C. To live lives of gratitude for all that He does for us (1 Thes 5: 18)
Nov 2014: We are encouraging people to add their contributions and to spread the word that this Ministry is available as an instrument to witness.
On 19 October 2014 the Spirit prompted Andrea and Charles to capture the Testimony Treasures Ministry (TTM) in song. They wrote words to the beautiful tune of Hallelujah (originally composed by Leonard Cohen) and through the help of Johnny Lang of Gain Productions Andrea was recorded as she sang the TTM Theme song. When we played it during a sermon for the first time many folk were very emotional as the Spirit spoke to them through the music. We serve and awesome God!!
Use the following YouTube link to listen to the song as performed by Andrea Kendall and recorded by Gain Productions:   http://youtu.be/ISOpbbdTx8M
Here are the words of our song:
I COULD NOT SLEEP ONE SEPTEMBER NIGHT
I TOSSED AND TURNED, I WAS SO TIRED
WHEN GOD SPOKE TO ME, IT WAS CLEAR
HE SAID I WANT YOU TO GO OUT
TO DO MY WORK, NO FEAR, NO DOUBT
TO GATHER THE CROWDS AND SING MY HALLELUJAH
                   HALLELUJA (X3) HALLE LU JAH
IT TOOK SOME FAITH TO UNDERSTAND
THE WORDS I HEARD WAS HIS COMMAND
I REALISED THEN THOSE WORDS WERE MEANT TO BE
I HAD TO GO AND STAND IN FAITH
TO TELL THE WORLD OF HIS LOVE AND GRACE
AND GET THEM ALL TO SING HIS HALLELUJAH
Chorus
SO THE FOLKS THEY JOINED TO TESTIFY
TO PRAISE HIS NAME, TO GLORIFY
THE GOD WHO WORKS SUCH WONDERS IN THEIR LIVES
THEY TOLD OF MIRACLES HE HAS DONE
OF LOVE AND PEACE AND BATTLES WON
THEIR NEVER ENDING SONGS OF HALLELUJAH
Chorus
MY LIFE I COMMIT FOR YOU TO USE
WITH YOU BY MY SIDE I'LL NEVER LOSE
AND THEREFORE I GO WHEREVER YOU WANT ME TO GO
I'LL TRUST IN YOU TO BE MY GUIDE
FOREVER THERE TO FIGHT MY FIGHT
AND ALWAYS I WILL SING YOUR HALLELUJAH
Chorus
Save
Save
Save
Save
Save